How Does This Work?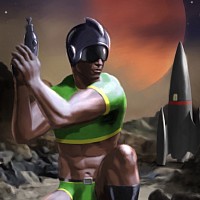 Retro Dude with Retro Ray Gun and Retro Rocket. (This is a detail from a larger image that is not available for licensing.)
So, you want one of these images for your book....
I'm offering these pre-made cover illustrations at a flat rate of $100 for independent authors, whether the pre-made is a vertical or horizontal format (usually cover-only or full-wrap). For that price, you'll get a permanent license to use the image and a 300 DPI RGB .png that you can use for whatever you need — your e-book cover, your printed book cover, promotional images, bookmarks, banners, whatever. Once you've licensed a pre-made image, it's yours to do with as you please.
I will retain certain limited rights to post the image on my site or other places (like Facebook, Instagram, Twitter, and other social media sites, for example) for promotional purposes. I will not post the image until after you've had your cover reveal or have released the book. When I post your licensed image here on DexFX.com or elsewhere, I'd be glad to link to your site to cross-promote our work, if you'd like.
You will have exclusive rights to the image (except as noted above). Once you've licensed it, the image will be removed from DexFX.com until you've revealed the image, when I'll post it on my "sold" page with the link to your site, if that's your wish.
A star fighter flies amongst the stars. (This is a detail from a larger image that is not available for licensing.)
So, you like what you see, but you don't see the right image for your book.
I'm available for custom illustration work, and would be glad to discuss your needs. Pop over to the contact page and send me a note to get the conversation going. Custom work will be more expensive than these pre-made images, but if you have something specific in mind, it'll be worth it. Get in touch for details.
I work in a wide variety of styles, but have mostly limited what I'm showcasing here to these painterly images — images that evoke a time of oil and turpentine and brushes on canvas. If you're interested in a different style, I'm definitely open to it.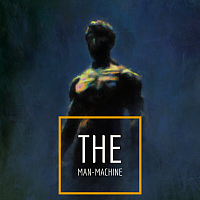 Text Layout. (This image is not available for licensing.)
So, you don't have layout tools or a layout artist available.
My main interest is painting, but if you need someone to do the layout work for you, I have some tools at my disposal to do that sort of work. Since it's not my primary focus, we'd need to discuss your needs to determine pricing and turn-around time. Again, head over to the contact page to send me a message with your needs.