Original Art for Science Fiction and Fantasy Book Covers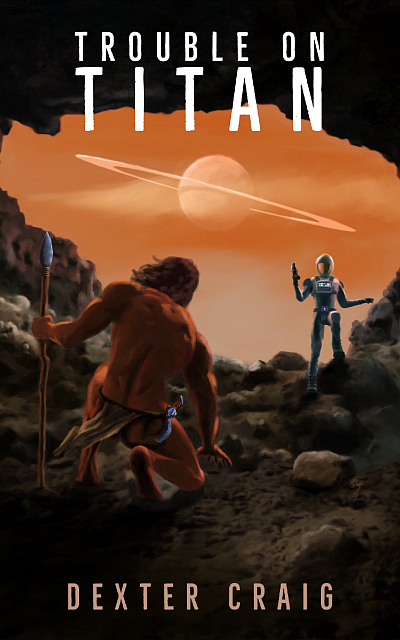 Spec Cover, "Trouble on Titan"
Hi, I'm Dex.  Welcome to my site.

When I was a kid in Arizona, I'd spend lazy summer afternoons in cool, air-conditioned bookstores, drinking in the beautiful artwork that adorned covers of science fiction and fantasy books. Far more often than my meager funds would allow, I'd long to buy many of those books, inspired by the gorgeous brush work of Vincent Di Fate, the incredible visions of Chesley Bonestell, the sensual poses of Boris Vallejo, the whimsy of Frank Kelly Freas, and so many more. After I was given a set of books collecting the art of Frank Frazetta, I was hooked. I tried drawing like those fabulous cover illustrators and filled many a sketchbook with, if I'm being honest, terrible pictures that my friends and family always dutifully raved about. Their patience and frankly undeserved praise did inspire me to keep at it, and now, decades later, in the middle of a pandemic-inspired lockdown, I finally have found the time to really pursue the craft of painting this kind of art.
I sat down with my iPad and Pencil, using an app called ProCreate (which is an amazingly powerful natural media simulator) and started painting. It took dozens upon dozens of attempts to get to a point where I was making anything I liked. I had no idea if anyone else would like them, but even if nobody else does, I'm still happy to have made something I like.
And now I'm sharing these with the world. My brother (still a fan I don't deserve) has been publishing the same kind of books I'd fallen in love with as a kid. One thing lead to another and suddenly, I'm painting book covers.
Here on DexFX, I'm putting together some speculative covers. If you're a writer of science fiction or fantasy and you're looking for a book cover, poke around the galleries, here, and if you see something you like, pop over to my Contact page and shoot me a message; I'd be glad to talk about licensing the image. I'm also definitely open to creating custom covers to your specifications.
Check out the How Does This Work? page for pricing and other information.
Also, check out the What's New page for my sporadic postings on the creative process, what I'm working on, when I've finished a new piece, and more.
Thanks, again, and enjoy the covers!